Nothing can beat the cosy light of a flickering candle and paired with your favourite scent it makes for pure relaxation.
How it all began
After making candles as a hobby, for family and friends and for charity events, I developed a passion for candle making. I am always striving to make simple, natural, long-lasting candles that burn clean and scent a room with vibrant fragrances. I love to combine natural waxes with fine fragrance oils that will give you hours of shimmering light, a lovely scent and a stunning looking candle that will fit any home.
All of The Candle Bothy products are hand-poured in small batches in Dundee on Scotland's East coast. Initially I started making candles in my kitchen before taking over the 'spare room' only to find that I was running out of space very quickly. The Candle Bothy is now based at Double Door Studios in Dundee City Centre where you are welcome to buy my products and collect your orders (by appointment only).
Environmentally friendly and sustainable
I aim to make products of the highest quality that are long-lasting yet affordable, while being sustainable and environmentally friendly. All my candles and wax melts are vegan friendly. I choose minimal packaging to protect my products and all packaging and labelling is either compostable or recyclable. My reed diffuser refills allow you to re-use your existing diffuser vessels – reducing waste and saving money. When posting your orders I either re-use packaging or use recycled paper padding and biodegradable starch packing peanuts that dissolve in water.
New products and collaborations:
I love to experiment with new waxes, fragrances and developing new products. Scents on offer vary by time of year with a selection of Christmas fragrances, autumn/winter scents and a spring/summer range.
I am lucky to be able to collaborate with other small businesses and individual customers – from supplying products for hampers, personalising labels for occasions and businesses, working on personalised scents for holiday cottages or product launches or developing new products altogether.
Where to buy my products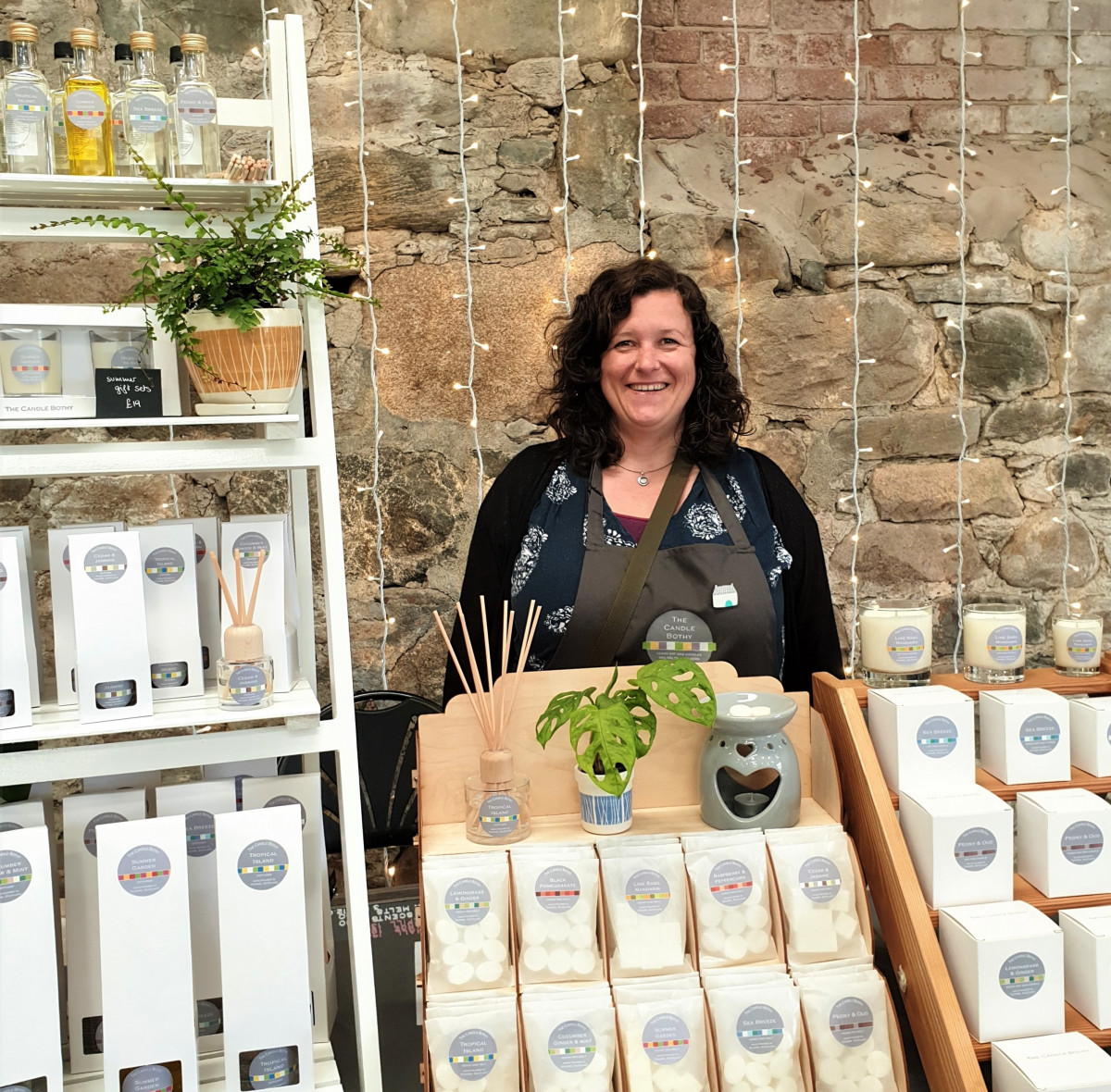 You can order the whole range of products right here in my online shop, visit one of my stockists, come and see me at markets and events – for dates and locations please have a look at the News section or check my social media.

Thanks for visiting my website. I hope you enjoy The Candle Bothy products.
Best wishes.
Sophie